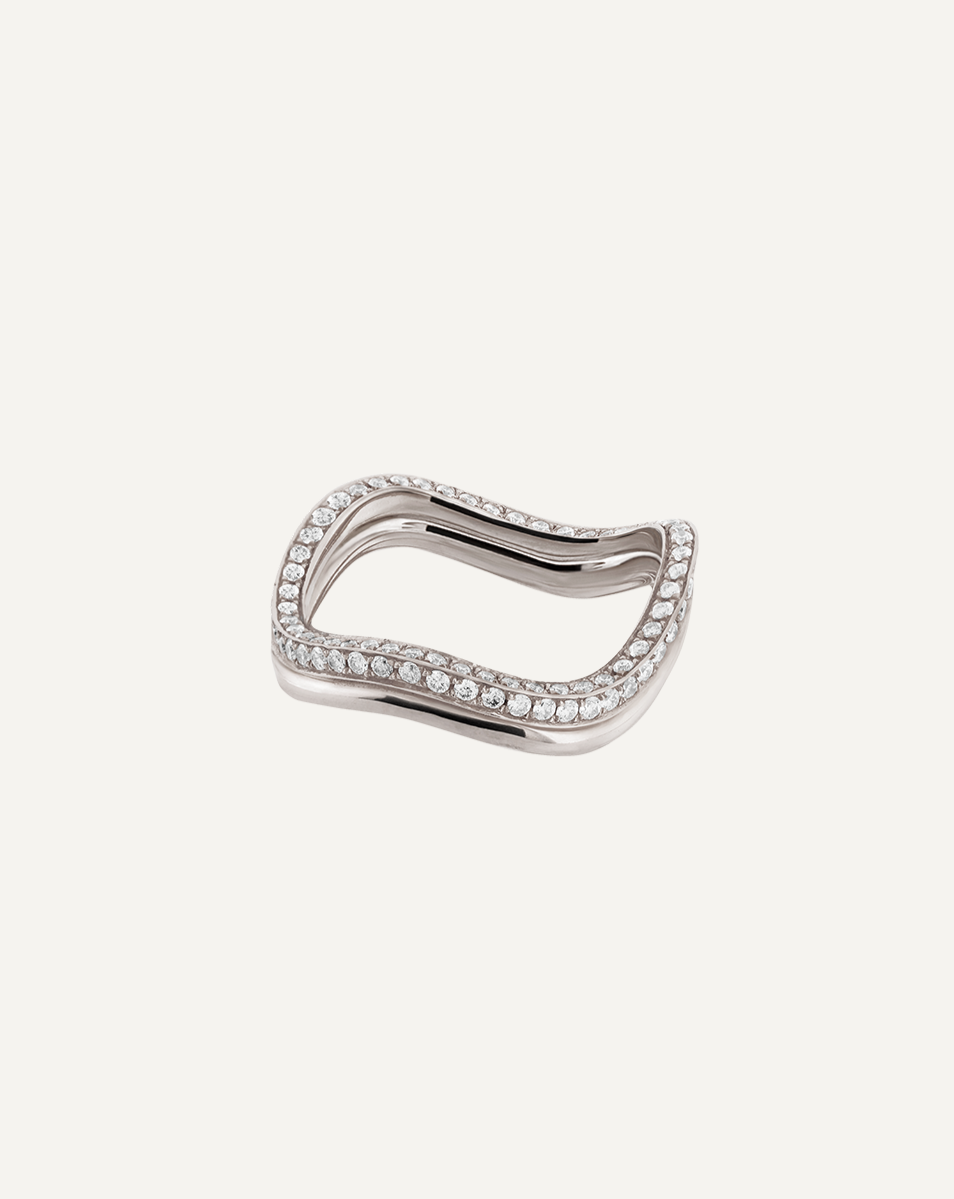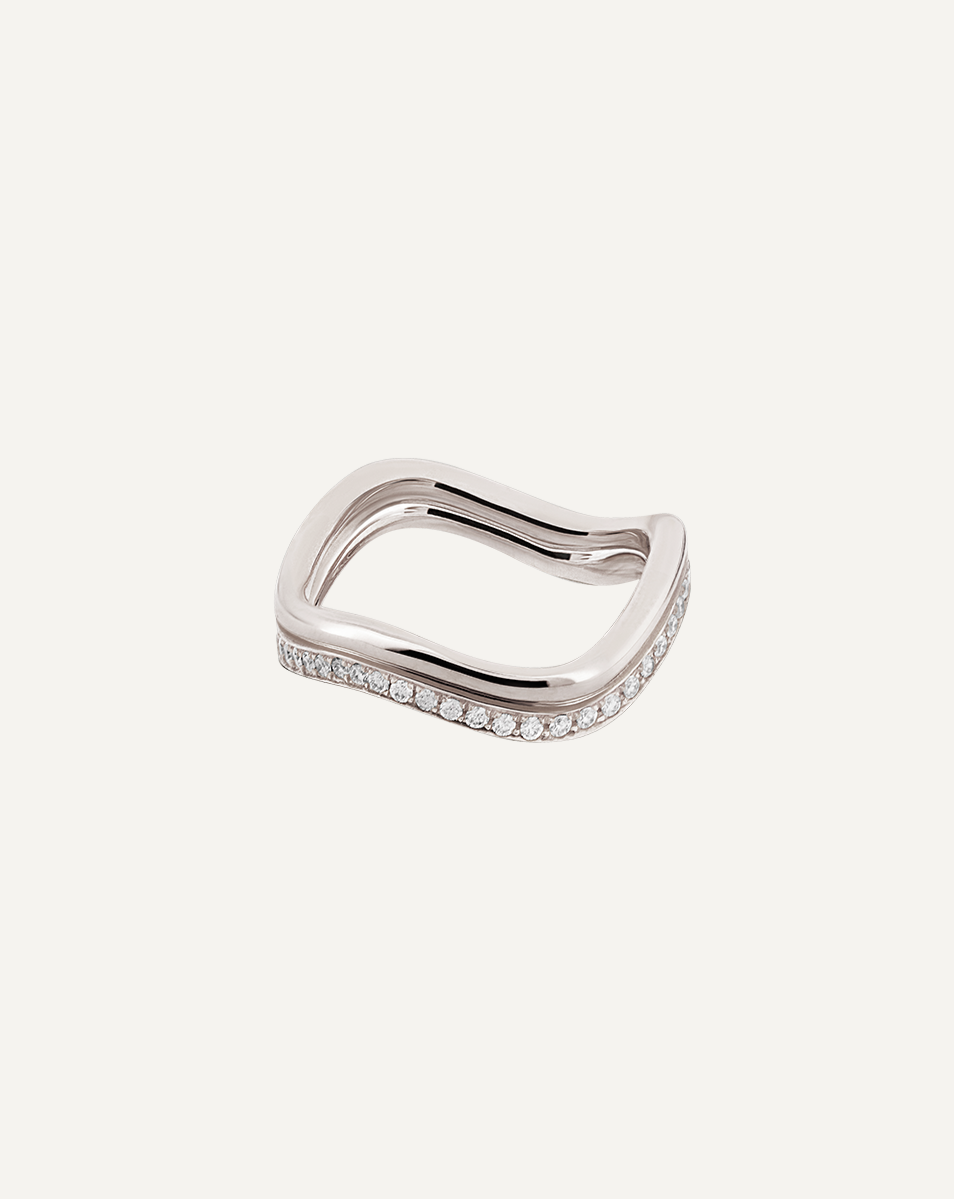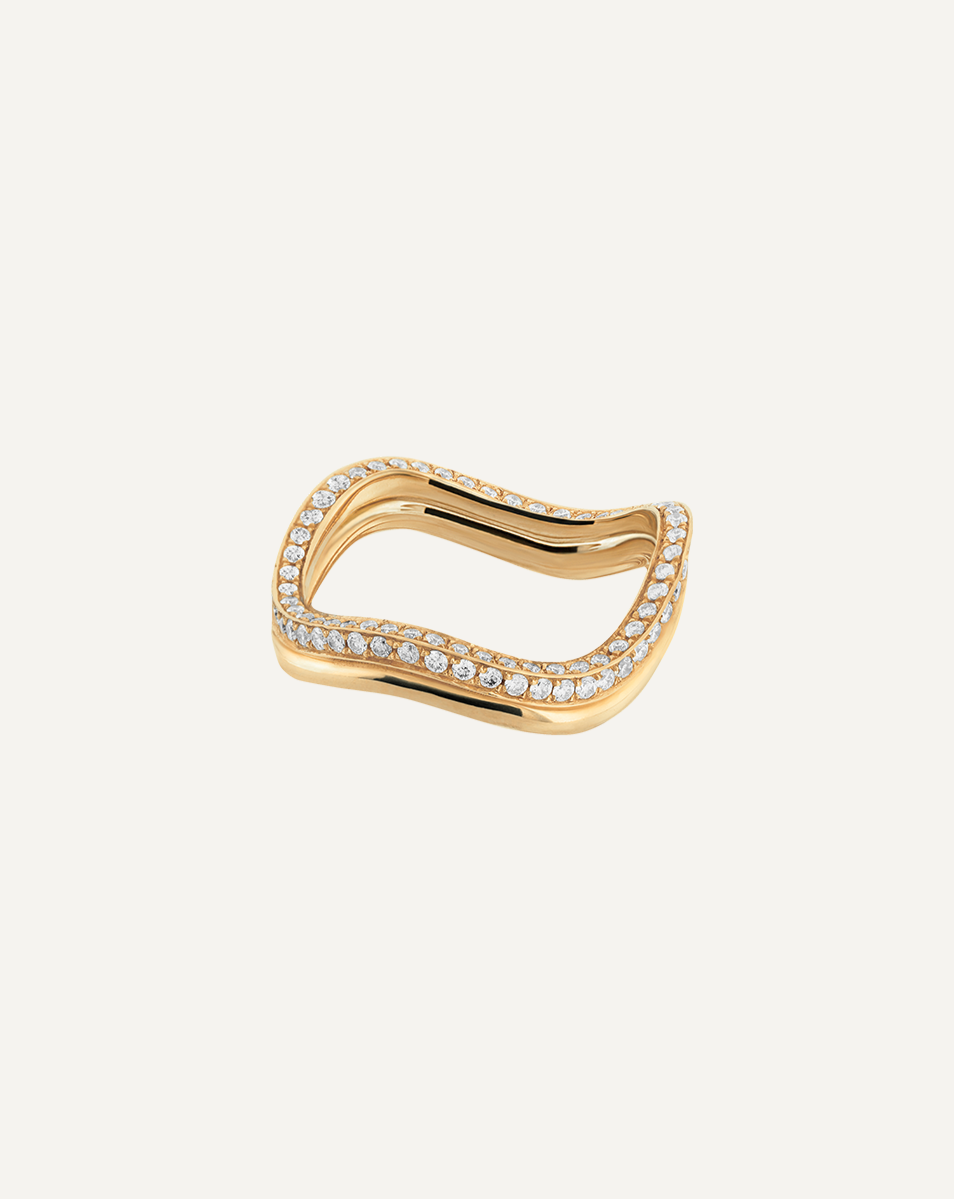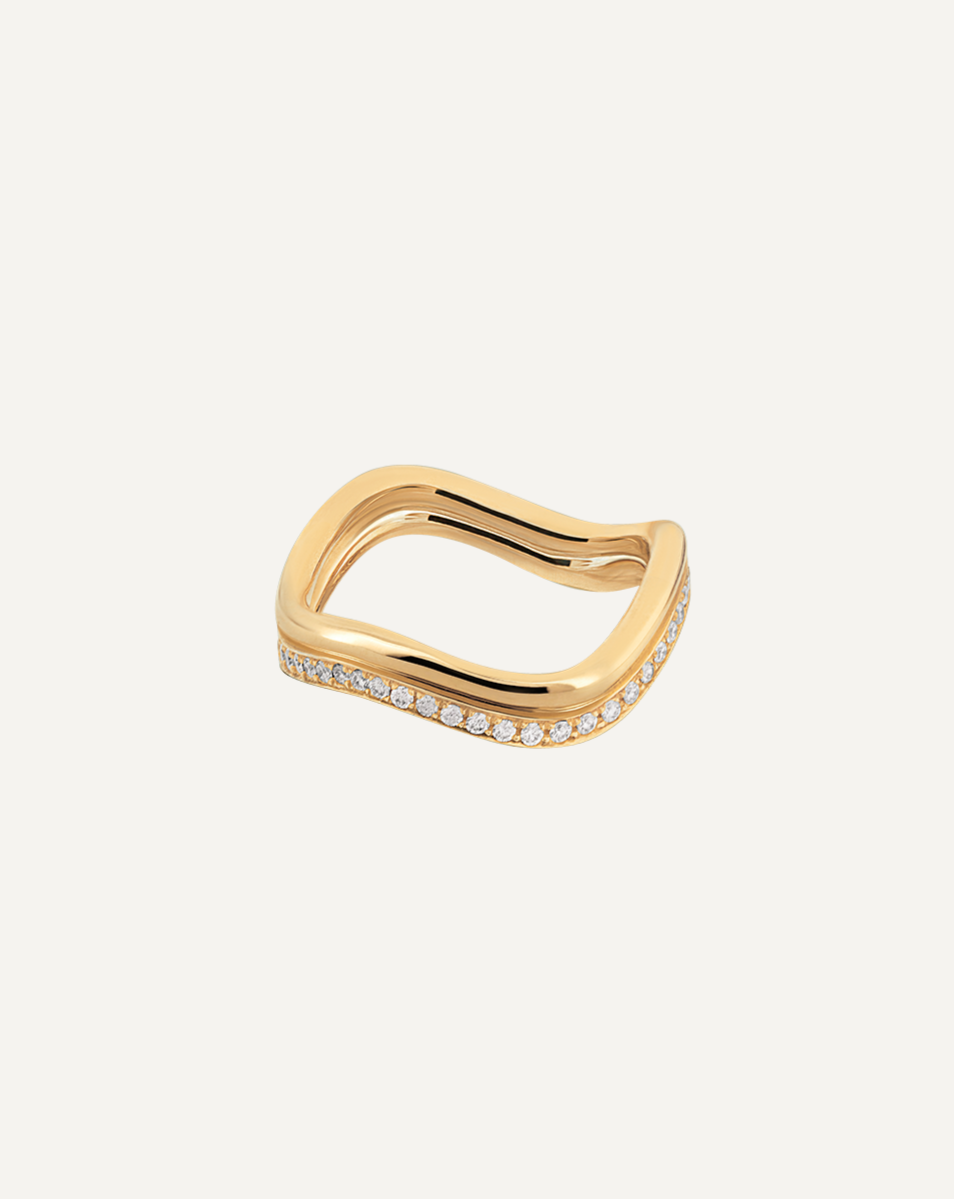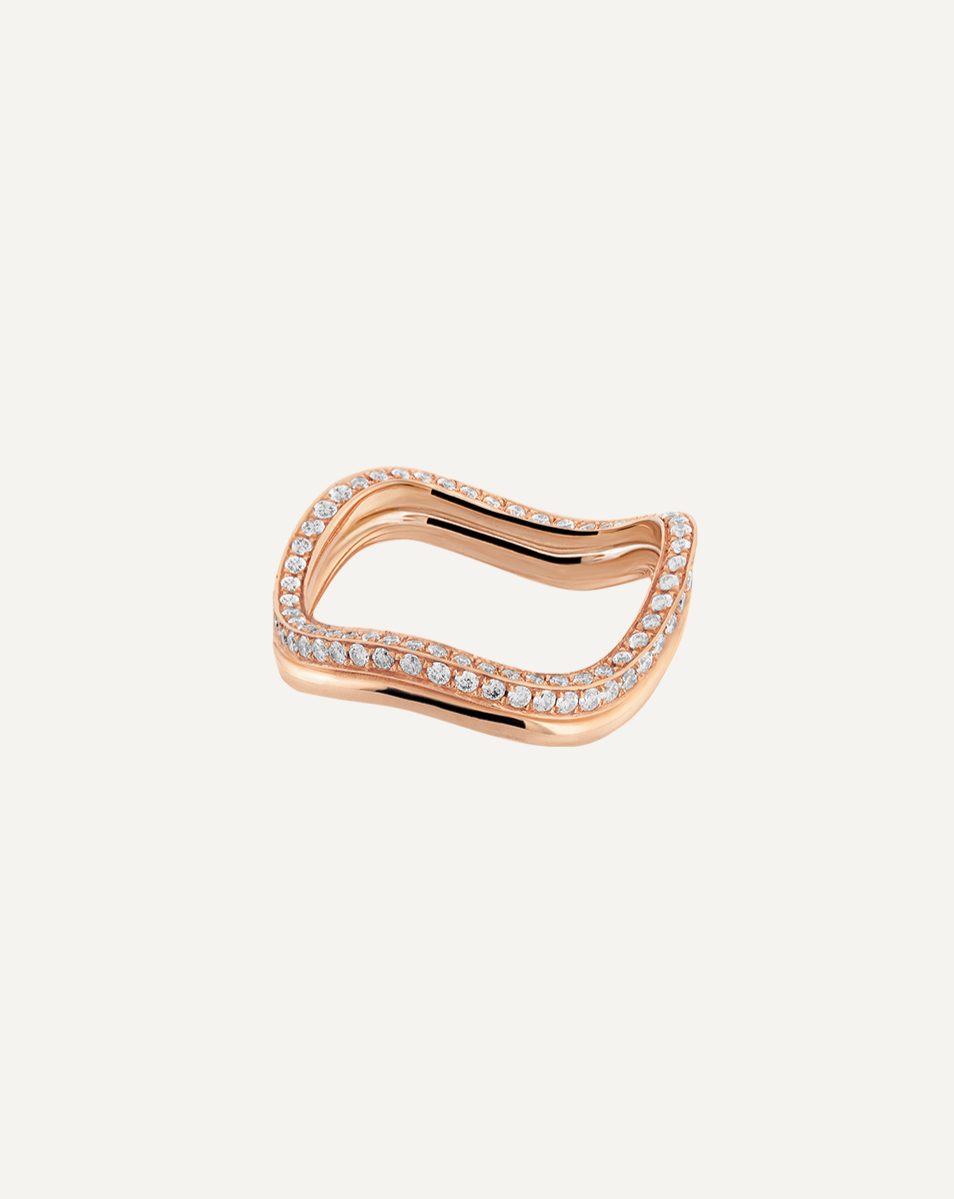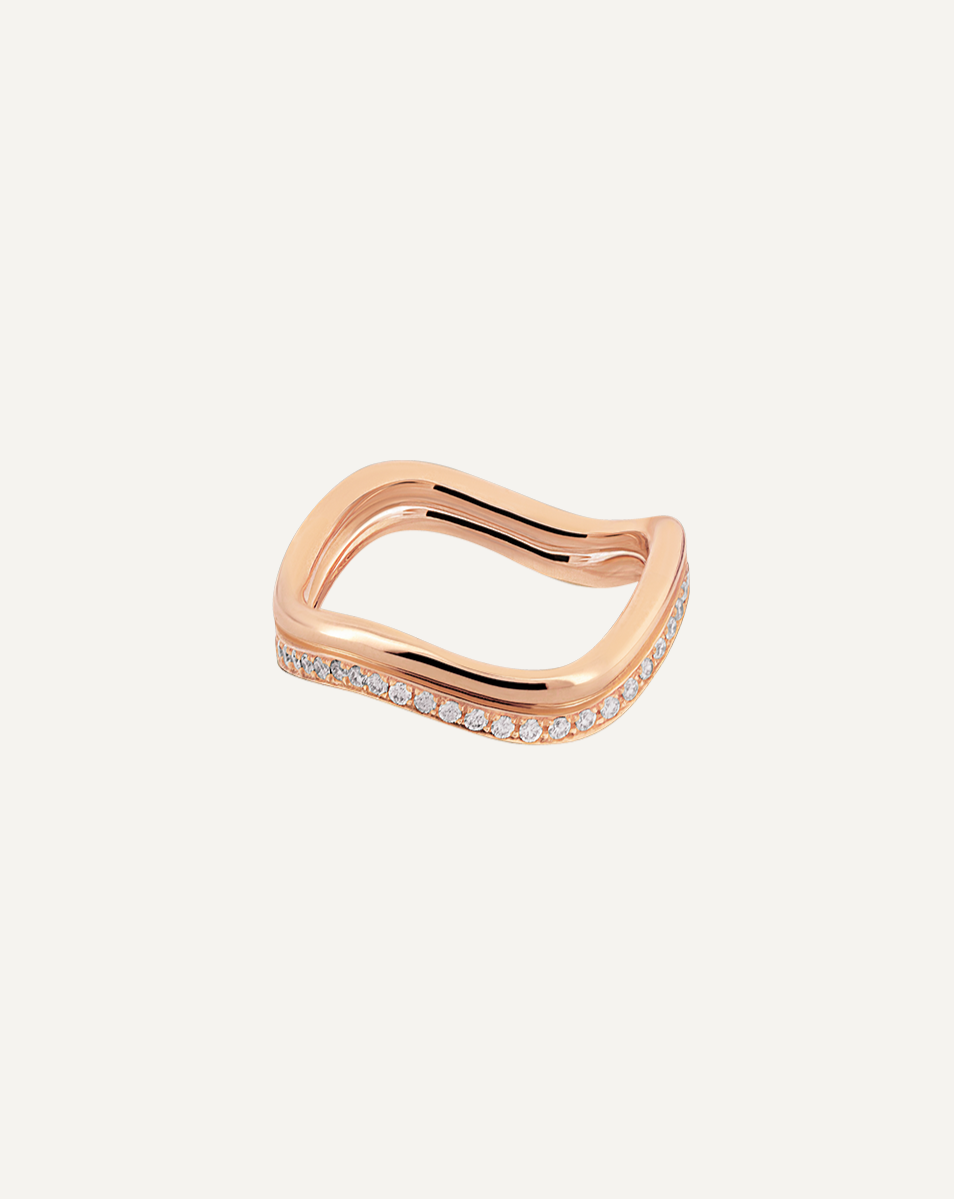 MEMENTO RING Curved Small Version
Description
Details
Sizing
Care
Delivery
An asymmetrical double-band ring in recycled 18K gold with a polished finish. This ring is composed of two bands of solid gold, with one band set and encrusted with diamonds at the side.
Material: Recycled 18K gold
Finish: Mirror polished
Total carat weight: Paved with an average of 91 ethically sourced diamonds for 0.54 ct*.
Diamond quality: Color F/G, clarity VS 
Dimensions: 4mm wide
*The number of stones and carat weights are based on average weights only. They vary depending on the ring size.
We advise that when measuring your fingers, you do not measure your fingers when they are cold or wet, as this will affect their natural size.
How to measure:
1. Wrap a piece of string around the part of your finger where you intend to wear the ring.
2. Using a pen, mark the point where the string crosses.
3. Using a ruler, measure the length of the marked string in millimetres. This measurement is your finger circumference.
4. Refer to our size guide below and choose the closest circumference from the table to determine your ring size.
Note, if you are sizing your finger to fit our larger designs, please consider the width of the band, we often advise sizing up by one or two sizes for our larger styles. If you find you are between sizes, we recommend sizing up.
If you are unsure of your size, please refer to our size guide below or contact us.
The precious stones and metals used to create this ring are delicate. We recommend taking care of your piece and ensuring it is handled with care in order to preserve its original beauty.
Wearing: To avoid any scratches we advise you keep your piece from rubbing against other set pieces of jewelry and when stacking your rings, that you avoid putting diamond encrusted edges next to each other. We also recommend avoiding any contact with chemicals and heat.
Cleaning: To maintain the shine of the polished finish and the diamond's original sparkle, we advise you soak your piece briefly in warm water and gently clean it with a soft-bristled brush. Finish the process by rinsing your piece off in clean water, then wiping it dry with a soft cloth.
Storing: We recommend you store your piece individually in a safe and dry place when it is not being worn.
All SÈVE pieces are made to order only, therefore, please expect delivery within 4-8 weeks of ordering.
If you have an urgent request, please contact us and we will do our best to respond.
If you wish to cancel or modify your order, please contact us within 24 hours of placing your order and we will refund your account or take into account your asked modifications. After this time, the order will not be exchangeable, cancelable or refundable. For more information regarding shipping and delivery, see here.
MEMENTO RING Curved Small Version